Do you love writing?
Do you want to get paid for it?

Do you dream of telling people "I write for a living"?
Go from bored employee to paid freelance writer in just one month.
In 2014 I dreamt about making a living writing. I loved putting pen to paper (or fingers to keyboard) and longed to make it my full-time job.
But, as you probably know, it's difficult to get paid to do what you love - especially writing.
Me before: I was frustrated with the vague advice out there, envious of other people out there living MY dream, and felt hopeless that I would never get to say "I write for a living."
Then in a month of madness, I quit my job and moved to Spain, giving myself just four weeks to kickstart my business.
It was time to stop reading. Time to stop dreaming. Time to start doing.
In that first month, I made $2,000, found 3 long-term clients, and gave myself the confidence-boost I needed to realise I could get paid to write.
Me after: I work just 20 hours a week getting paid to write for amazing brands. I have more time to do the things I want to, and I wake up in the morning excited to start the day. My bank balance is rocking, too, with more than $5,000 going in each month.
I've packaged my exact process up into an easy-to-digest, step-by-step guide that will take you from dreaming about being paid to write, to ACTUALLY being paid to write.
It worked for me and it's worked for thousands of others - so why can't it work for you?
Let yourself realise your dream of writing for a living. Let yourself become those people you're envious of now.
Let the Launch Your Life as a Freelance Writer program show you the way with actionable, no-fluff lessons that you can apply to your business immediately. Go from clueless newbie to a champion freelancer and start earning money doing what you love.
Cutting through all the stressful noise in the freelancing world, it provides you with a series of actionable steps you can put to use straight away.
It will show you how you can leave cubicle life behind and start creating a life you love, with more time, money, and energy to spend on things you enjoy.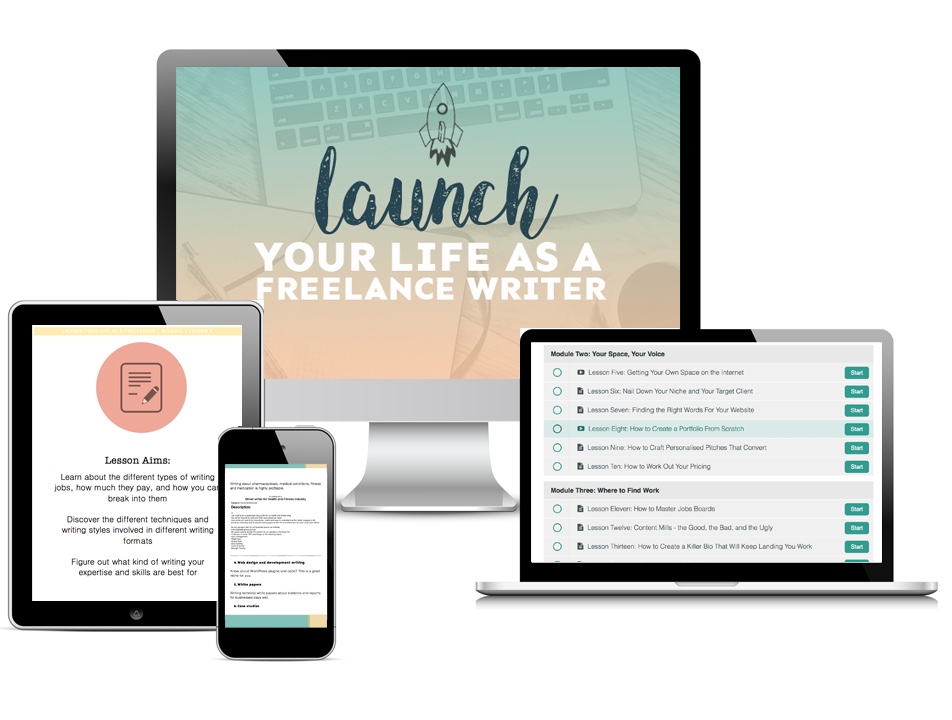 Did you know?
You can start making money as a freelancer WITHOUT any experience at all
I can make you this promise because…
I've done it myself! Launch Your Life as a Freelancer comprises 21 easy-to-digest multimedia lessons that not only teach you the theory behind pitching, pricing, landing clients, and everything in between, but also show you the EXACT STEPS you can take to put these vital elements into practice.
These lessons have been tried and tested with incredible results. I went from no experience, no credentials, and no clients to earning $5,000+ each month and working 20 hours a week writing for clients I absolutely love.
---
The step-by-step strategy I teach you in Launch Your Life as a Freelance Writer are the same ones I used to grow my business from $0-$5,000+ per month
---
And I'm not the exception. I promise.
I've seen tens of freelancers soar from nothing to success in a short space of time by using the strategy covered in Launch Your Life to land clients, build a name for themselves, and scale their businesses into profitable brands.
Why so many people struggle to make it as successful freelancers
If there's one thing I've learnt from teaching freelancers how to grow their businesses into revenue-ready machines, it's that there is waaay too much information out there.
New freelancers are getting put off even trying because of the overwhelming amount of "advice" and "tips" out there. Trust me, there's a lot of nonsense circulating in the industry.
Launch Your Life as a Freelancer was created specifically to cut through this unhelpful noise and give you real-life scenarios and actionable advice you can actually apply to your business today.
Each lesson has been designed with a specific goal for you to achieve, using worksheets, videos, and tasks to guide you through it step-by-step.