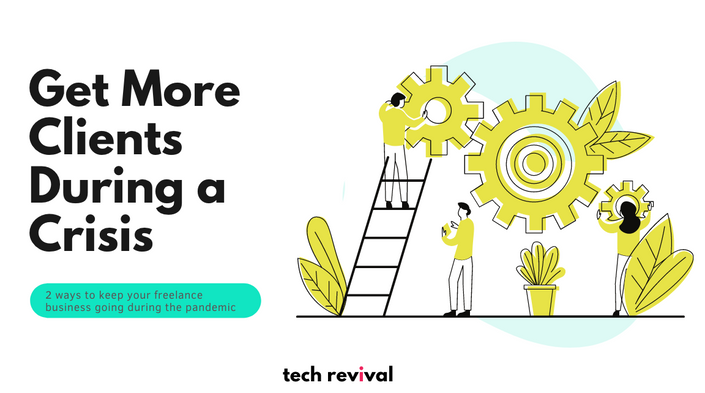 Get Clients in a Crisis
Actionable training to help your freelance business thrive during the pandemic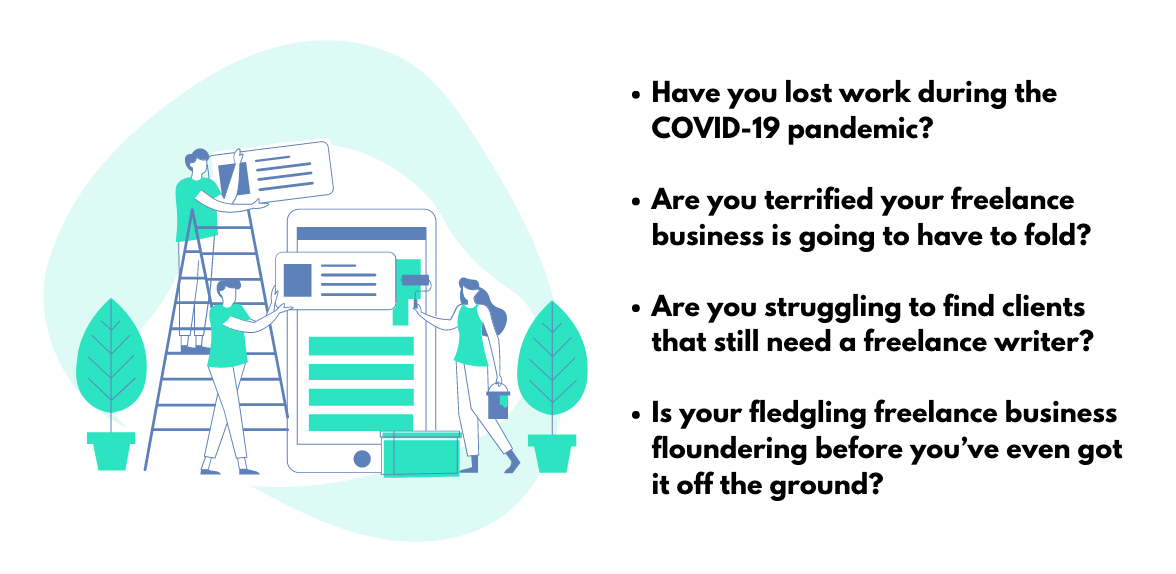 Has anxiety about the future brought your business to a grinding halt?
It's really damn hard, I'm not going to tell you otherwise.
We're living in weird times. So many freelancers are clinging onto the business they put some much time, love, and energy into by their fingertips. It's not fun. It's not fun for anyone.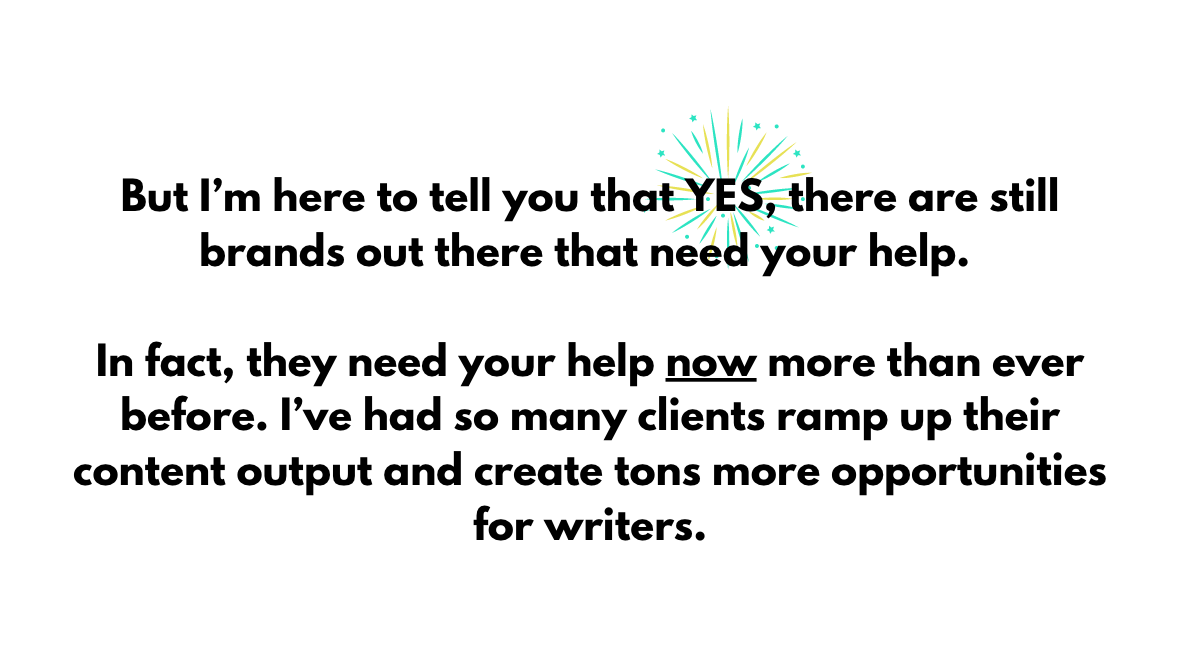 You don't need to work for free. You don't need to lower your prices. You don't need to fold the business you've poured blood, sweat, and tears into.
There are two really actionable ways you can get through this, which I show you in this short training video.

Not only will these methods get you through this, but they'll ensure your business is thriving when we get out the other side of all this (and I'm positive we're going to get out of this, even if it doesn't feel like it right now).
The Get Clients in a Crisis training video will walk you through these two methods step by step. In just under an hour, you'll be armed with a new sense of hope, a glut of new clients to reach out to who need your help right now, and a business that's no longer floundering.
The video will show you: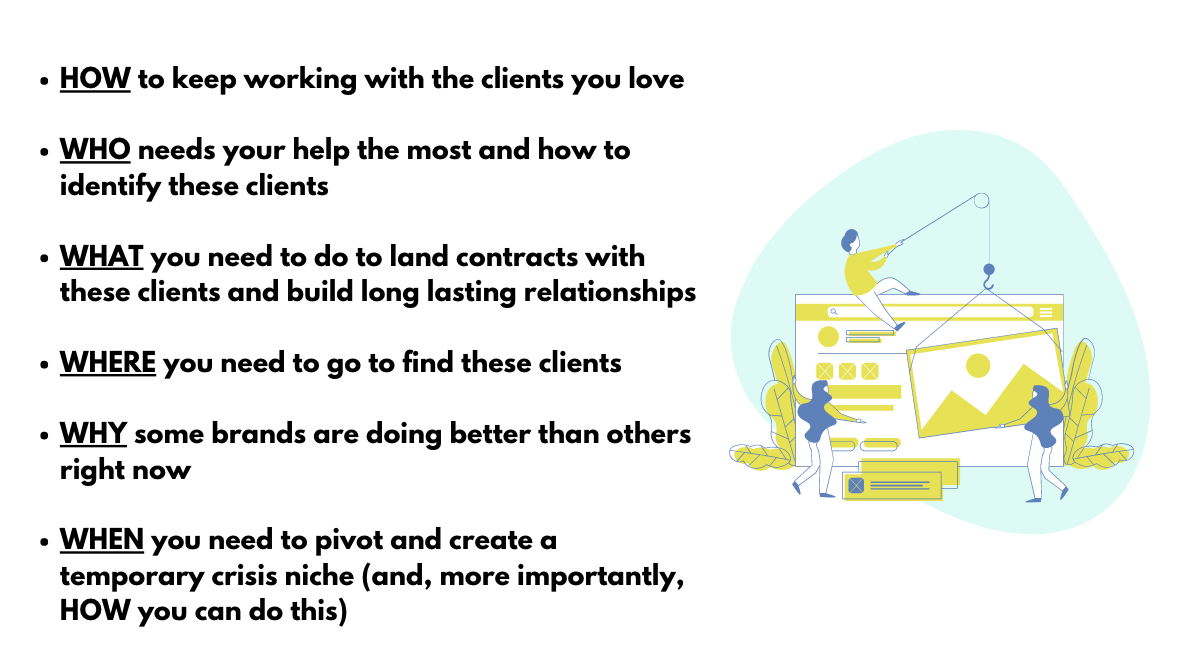 I know you're desperate right now, and that's okay. It means you're passionate about your business and that you care. That's so important.
I also know that you might be struggling with cash flow right now. Which is why I'm offering this training for just $5 (a.k.a. the cost of a cup of coffee).
You've got this. We've got this.
In less than an hour you can get back on track and once again be the amazing freelance business owner you (and I) know you are.
Your Instructor
Lizzie went from full-time employee to freelance writer in 2014 without taking a drop in income. In fact, in her very first month, she earned $2,000 - a number that has kept increasing since.
It wasn't luck. It wasn't a fluke. It wasn't because she had any experience (she had zilch!). It wasn't because she had connections. It was because she put a structured strategy in place that was results-focused. Every step was intentional (and she was dang persistent, too!).
Now, Lizzie earns $5,000+ a month writing for top name businesses and brands in the digital marketing and tech niches. This signature course delves into that strategy she put in place in the first month to set her business up for success. Instead of compiling a series of blog posts that don't offer much value, this course is a step-by-step system that will take you from clueless to champion freelancer in 21 days.
Course Curriculum
Get Clients in a Crisis Training Hub
Available in days
days after you enroll
Frequently Asked Questions
How long do I get access to the video for?
Once you've signed up, you'll have access to the video for as long as you need it. It's yours for a lifetime!
What if I am unhappy with the course?
I would never want you to be unhappy! If you are unsatisfied with your purchase, contact me in the first 30 days and I'll give you a full refund.